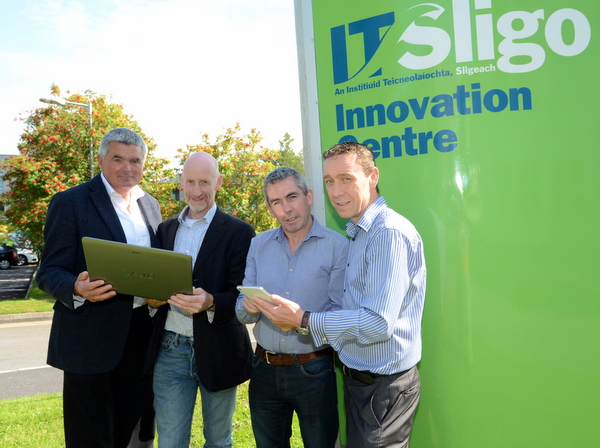 L to R Niall Mc Evoy, Head of Innovation, I.T. Sligo, Colin Bell Architect and Director Building Control Register.ie, Sean Clancy Founder and CEO Building Control Register.ie
BuildingControlRegister.ie launches today August 6th. My thanks to Enterprise Ireland and the New Frontiers programme for their support and confidence in me and the product over the past two years. I also greatly appreciate funding from local agencies Sligo Leader and Sligo LEO.
After four years of market research in Ireland and the U.K. and particularly since the announcement by Government in 2012 of proposed changes to the building control regulations in Ireland the seed of Building Control Register.ie was born. From an initial backend software administration system the project grew over the period into a comprehensive cloud based administration system that caters for all the requirements of the newly introduced Building Control (Amendment) Regulation 2104 and additionally a web application "Construction Inspector" was developed and this allows all on-site inspections to be carried out on mobile devices and then the inspections synchronised with the backend administration software where a report is automatically created thus eliminating paperwork.
Today marks the start of what will hopefully be a long and enjoyable journey in improving building regulation compliance and building control regulation compliance in Ireland and further afield by streamlining the administration and inspection process of new construction projects.
For more information on BuildingControlRegister.ie, check out our features section or follow us on twitter @BuildConReg.