Journal.ie and the Irish Independent planning permission was granted for 1,604 houses and apartments in the first three months of the year – a decrease of 704 on the same period last year. This represents a 30.5% drop on January-March 2013, when 2,308 dwellings were granted permission.
Permission was granted for 1,446 houses in the first quarter of 2014, compared to 1,860 in the first quarter of 2013, a decrease of 22.3%.
Planning permissions for apartments fared even worse. Some 158 applications were granted nationally, compared with 448 units in January – March 2013, a decrease of 64.7%.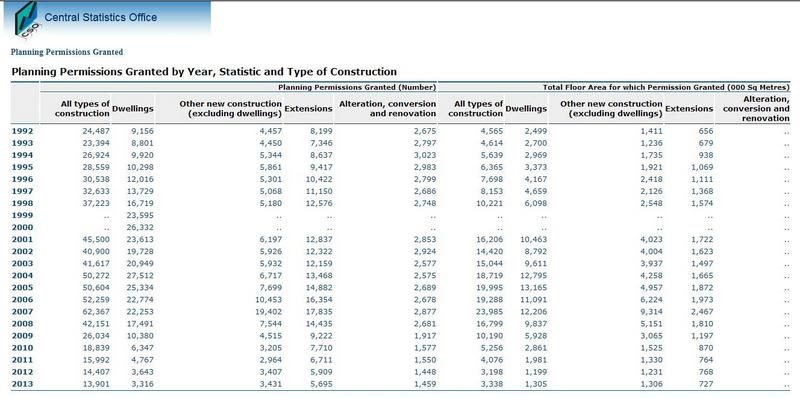 However the number of people submitting planning applications and issuing commencement notices for residential projects is continuing to rise.
That's according to the National Housing Construction Index produced by Link2Plans.
Project commencement notices rose in the first four months of 2014 with an increase of 132% nationally compared to the same period in 2013.
Meanwhile 16 of the 26 counties experienced increases in planning applications submitted, when compared with the figures for the same period in the previous year
The Construction Industry Federation (CIF) warned that a lack of finance to build developments, coupled with a lack of permissions for houses, meant many families would be unable to purchase a new home in the short term.
"There's not going to be enough supply to meet the demand in the market," a spokesman said.
"Until barriers to supply are dealt with, this problem isn't going to get better any time soon.
"There is planning permission for 30,000 units in Dublin, but 21,000 are for apartments. The market doesn't require apartments.
"There's problems with finance, and the cost of building is too high. Until all those issues are dealt with we're not going to see more supply coming through."